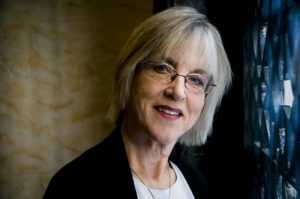 The Rachel Cowan Scholarship Fund will provide greater access for activists and traditionally marginalized Jews to IJS's contemplative retreats and programs.
The Institute for Jewish Spirituality (IJS) has created the Rachel Cowan Scholarship Fund to celebrate the legacy of Rabbi Rachel Cowan, who passed away last year. The fund will focus on bringing more activists and underrepresented constituencies in the Jewish community into its programs and retreats.
At this critical moment in history, where division and hate are tearing at the fabric of our communities and endangering the possibility of multiracial democracy, activists and change-makers of all races and religions are using mindfulness and spiritual practices to cultivate an experience of deep connection, sustain their spirits and bring their best selves to advocacy for a just and equitable society.
Seeded in part through a $180,000 grant made by the Nathan Cummings Foundation (NCF) and individual donations made in Rabbi Cowan's memory (including a bequest from Rachel herself), the fund will offer scholarships to IJS's retreat-based programs, making them more accessible to young people, Jews of color, LGBTQ Jews and activists. Additional scholarships will be available for IJS programs through 2022.
Honoring Rachel's commitment to social justice and supported by the grant from NCF, IJS will also offer a special three-day retreat for twenty-five activists in 2019. This contemplative retreat will give activists the opportunity to pause, tend to their own souls, and see the deep connection between tikkun hanefesh (healing ourselves) and tikkun olam (healing the world). Participants will learn new tools of spiritual practice so that they may return to their work with renewed motivation, perspective, and resilience—hallmarks of Rachel Cowan's legacy.
Rachel's Transformative Vision
"NCF's board, leadership, and staff are proud to celebrate Rachel's transformative vision with this grant. In doing so, we are building on our legacy as a Foundation and bringing new energy to our commitment to the transformative potential of contemplative and spiritual practices for social change," said Isaac Luria, Director of Voice, Creativity, and Culture at the Nathan Cummings Foundation.
"Today, we still see incredible potential in nurturing the spiritual and leadership capacities of the next generation of Jewish social justice activists," continued Luria. "By improving the resilience and creativity of our leaders through spiritual and contemplative practice, we are growing the Jewish community's contributions to the work of building a multiracial democracy where all may thrive, dismantling racial injustice and confronting antisemitism, and enlivening the soul of Jewish communities."
"As a lifelong activist, Rachel saw the connection between inner and outer work," said Rabbi Lisa Goldstein, Executive Director of the Institute for Jewish Spirituality. "She knew the transformative power of contemplative practice for herself, and what it could be for the world. This Fund will not only provide powerful learning opportunities for Jewish activists and other marginalized Jews, but assist IJS in learning how to reach a broader community of spiritual seekers. This could not come at a better time for us, especially as the world cries out for a spiritual and moral evolution."
A Foundation of Spirituality and Justice
Twenty years ago, Rabbi Rachel Cowan, then Jewish Life Program Officer at the Nathan Cummings Foundation, co-founded IJS out of a belief in contemplative practice and its ability to connect our inner experience to the work of healing and repairing the world. Acting upon NCF leadership's challenge to help more Jews access deep Jewish spiritual wisdom, Rabbi Cowan gathered a small group of colleagues who worked together to create an intensive, practice-based model of Jewish spiritual learning and exploration. A similar model of consultation and conversation will be used to deepen knowledge of how contemplative practices can support Jewish activists in this moment.
This model, which began around a kitchen table and would grow to encompass hundreds of alumni around the world, became the Institute for Jewish Spirituality, now a global leader in teaching Jewish mindfulness and spiritual practices through retreats, community programs, and online learning. IJS teaches core practices such as Jewish mindfulness meditation, tikkun middot (the development of ethical character traits), prayer, and reflective Torah study.
Rachel was known as a visionary activist in the Jewish community: a beloved teacher, mentor, and advocate for social transformations through spiritual wisdom. She knew that while spiritual practice can happen anywhere and mindfulness work can begin at any level; she also believed deeply in the transformative nature of retreats and aspired to make the experience more accessible to a diverse audience.
Rabbi Rachel Cowan served as a Program Director for Jewish Life at the Nathan Cummings Foundation from 1990 to 2003 and as Executive Director of the Institute for Jewish Spirituality from 2004 to 2011. Rachel passed away in September 2018 following a battle with brain cancer.
For more information about bringing Jewish mindfulness practices into your life, the Rachel Cowan Scholarship Fund, or the Jewish Mindfulness Retreat for Social Activists, visit www.jewishspirituality.org/legacy.
For a collection of remembrances and reflections of Rachel from her friends, colleagues, and partners, click here.