During the COVID-19 pandemic and the current uprising for racial justice, I have been teaching an online program for the Institute for Jewish Spirituality (IJS) in mindfulness and character development, "Awareness in Action: Cultivating Character through Mindfulness and Middot." Through this program, participants have applied tikkun middot practice — mindfully cultivating innate spiritual/ethical qualities — to personal challenges in their daily lives. This has helped them weather the pandemic without succumbing to fear and despair, while striving to remain true to their highest intentions.
Tikkun middot practice is particularly compelling for social justice activists — indeed, for anyone seeking to address the larger, systemic social inequities exposed by COVID-19 and the virus of racial injustice. This practice directly connects personal transformation with social change. It infuses both with a sense of higher purpose and deeper meaning, and grounds social justice activism in our innately sacred qualities. Most importantly: it addresses the deepest roots of the issues of our day, applying spiritual wisdom to the work of personal and social change.
Tikkun middot practice involves using mindfulness (focused attention on what is true in the present moment) to strengthen both our ability and willingness to open our eyes to reality. It helps us witness, without flinching, unflattering aspects of ourselves and our society, revealing our implicit, unrecognized biases and assumptions. This practice is an indispensable tool for promoting pragmatic social change initiatives and for courageously identifying our blind spots and rooting out — with love — the toxic racial and other biases lurking deep within us all.
The first step of tikkun middot practice is hitlamdut, literally "self-learning," with which we adopt a mental stance of curiosity rather than judgment. We can associate this with the Biblical term hineini ("I am here"), connoting a state of consciousness in which one is fully present and attentive in the moment, open and receptive to what is revealing itself, and ready to act and speak in accordance with what the moment demands. The classic Biblical example is Moses, who turns aside to look at the burning bush, listens deeply to the hard truth from which he has fled, and who, despite powerful inner resistance, nevertheless heeds the call and acts upon it.
Through hineini practice we see more clearly, in real time, our subconscious judgments and biases — our habits of mind, emotion and body — which trigger unwise, reactive behaviors, patterns which have been engrained over time, and become embedded in our daily lives and society at large.  We notice and release our understandable inclination to deny or avoid these "inconvenient truths." We see ourselves and the world through a wider and clearer lens.
The second step of this practice is noticing a ("choice") point, a moment in which we become aware of the choices for responding wisely, instead of reacting out of fear-based habit. "Between stimulus and response, there is a space," the psychoanalyst and Holocaust survivor Viktor Frankl taught. "In that space is our power to choose our response. In our response lies our growth and our freedom." Heightened awareness of our base, reactive tendencies enables us to open additional spaciousness within us, and to respond with greater wisdom, guided by "the better angels of our nature."
The third step of this practice is activating our "better angels" by accessing what Jewish tradition refers to as middot (literally "measures"), innate spiritual/ethical traits embedded within each of us: Chesed, recognizing the fundamental interconnectedness of all life; Gevurah, setting wise boundaries which honor differentiation and diversity; Anavah, balancing the needs of self and others; Zerizut, responding energetically, promptly, and resiliently to that which must be done; and Hodayah, accepting and appreciating life just as it is, with gratitude.
Through tikkun middot practice, we intentionally seek to channel these essential qualities into all of our actions and words, in service of promoting tzedek v'shalom, justice and wholeness, both in our daily lives and in our larger world. We "seal" this practice with the middah or quality of Emunah, Trustworthiness, which helps us be resolute and steadfast in creating a life and a society reflecting the infinite, equal worth of every human life.
Like many other schools of spirituality, IJS understands spiritual practice not as a prescription for retreating from the world, but as a springboard for actively engaging in it. Spiritual practice grounds both individual and social transformation in sacred qualities implanted within us as beings created in the Divine image, as well as in the wisdom of tradition and our own hearts. It enables us to address the deepest roots of the daunting social challenges we face, rather than the symptoms.
We each have an "inner tzadik," an internal voice insistently calling us to do what is right, in a manner that is also right. This persistent inner signal reminds us of our connection to and responsibility for each other and, indeed, all of creation. It urges us to repair that which is broken within us and around us, promote healing for those who ail, protect the vulnerable, and pursue shalom, wholeness and reconciliation. Spiritual practice attunes us to this inner voice, helping us pursue that which is right and just from our highest instincts, guiding us to seek justice informed by a sense of loving connection with all beings — and with the earth.
This critical juncture in human history demands a response reflecting our most noble qualities, including courage, humility, empathy, generosity, and resilience. Jewish spiritual practice can help us rise to the occasion, individually and collectively. Cultivating our inner life (tikkun hanefesh) is inseparable from pursuing repair of the world (tikkun olam). By grounding personal and social transformation in sacred qualities implanted within us as beings created in the Divine image, as well as in the wisdom of tradition and our own hearts, spiritual practice can help us survive the current storm while also laying the foundation for a future in which our society might thrive for generations to come.
From 2009 to 2017, Sarah Hurwitz served as a White House speechwriter, first as a senior speechwriter for President Barack Obama and then as head speechwriter for First Lady Michelle Obama. Prior to serving in the Obama Administration, Sarah...
read more
In Genesis, God instructs Noah to build an ark to protect his family and two of each species on earth from the floodwaters that God will bring. "Make yourself an ark of gopher wood: make it an ark with compartments and cover it inside and out with pitch"...
read more
A message from Rabbi Josh Feigelson, PhD – Executive Director of the Institute for Jewish Spirituality. This is the moment we've been practicing for. We will rise to the occasion.
read more
The phrase "community of practice" is one of those bandied-about terms that seems particularly suited to Jewish spiritual groups: Community and practice – how obvious and how obviously beneficial!
And yet, it's also not so simple.
read more
Last week we offered a meditation retreat for activists from across the country, thanks to a grant from the Nathan Cummings Foundation in memory of Rabbi Rachel Cowan. At the end of a few days of cultivating a loving heart through meditation, prayer and silence, the participants shared their thoughts and experiences of connecting contemplative practice with their work as activists. Several of them expressed the tension between the rage they felt in response to their own experiences of oppression which then fuels their work and the healing power of reaching out – and in – in love. It was such a relief to immerse in love. But what about the justifiable anger at all that is hurtful and unjust in our world?
read more
We Jews are known for being big talkers. We are stereotypically a people of a lot of words, of arguments, of big ideas, of strong opinions. I remember once speaking to a Catholic boys' school in Missouri. The first kid raised his hand and said, to his teacher's mortification, "Our science teacher is Jewish and she talks fast, too. Do all Jews talk fast?" (I quickly said, "Yes!") It's not surprising that people frequently raise their eyebrows when they hear what IJS does and ask, "How do you get Jews to be quiet?"
read more
In our people's mythic calendar, this is the time of year that we are journeying from the Red Sea to Sinai, from Passover to Shavuot. For me the annual pilgrimage started, as it does most years, when I made the journey to my parents' home for Passover. And as usual, each time I boarded the plane, coming and going, I whispered the traveler's prayer to myself.
read more
Last week we celebrated a special anniversary: it has been one year since my husband and I became foster parents to a wonderful 18-year-old refugee from West Africa. It has been a year of great blessing and joy and also of tremendous learning, as you can imagine,...
read more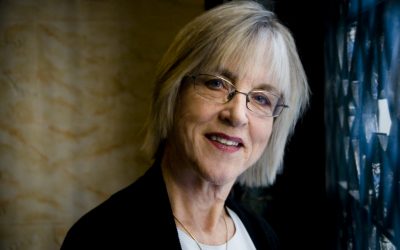 The Rachel Cowan Scholarship Fund will provide greater access for activists and traditionally marginalized Jews to IJS's contemplative retreats and programs. The Institute for Jewish Spirituality (IJS) has created the Rachel Cowan Scholarship Fund to celebrate the...
read more
This month begins IJS's 20th anniversary year! I was not personally present at the very beginning in 1999 when Rachel Cowan (z"l) and Nancy Flam brought together an extraordinary group of spiritual teachers and seekers in a process of sharing and learning that became...
read more
The end of the year is often a time for looking back, a kind of collective secular cheshbon hanefesh: an accounting of what has transpired over the year. In addition to the list of top movies and songs, we can take a sober look at what were the big news stories, who...
read more
Hanukkah is upon us and with it the aptness of all the metaphors of bringing light into the darkness. A less examined theme of the holiday, however, at least in many spiritual circles, is holy boldness - the decisive action that the Macabees took in the face of...
read more