Cultivating Character through Mindfulness and Middot:
An 8-module Journey Toward Being Your Best Self
How often do you feel out of sync with your own inner values… prompting  your inner voice to whisper: "I wish I hadn't done that" or "I wish I hadn't said that." This self-paced, online course helps you more consistently align your inner values with how you are in the world. Learn how to access and practice eight core character traits (middot)… from the comfort and convenience of your home..
Learn More or Register
Learning to Engage Prayer as Practice: Month-Long Intensives
Does your prayer life need a boost? Could you use support, guidance, community and/or teaching to help you engage a richer and more meaningful prayer practice? The Prayer Project is designed to help Jews explore prayer as spiritual practice: something we engage in with specific aims, forms, and techniques to cultivate our conscious connection with God.
Register for an Upcoming Online Module
Deepen Your Experience with Torah
For fifteen years, hundreds of rabbis, cantors, lay leaders, and individual learners have used the Text Study program to deepen their experience of Torah, enrich their teachings and sermons, lead community study groups, and grow in practice. Join us this year in the profound and spiritually uplifting world of Torah study with the Institute for Jewish Spirituality.
Drinking from a Deeper Well:
Practice for Resilience and Wisdom in Challenging Times
Pause to replenish your inner life with this contemplative Jewish online retreat experience from Sunday, July 19 through Tuesday, July 21.
Learn More or Register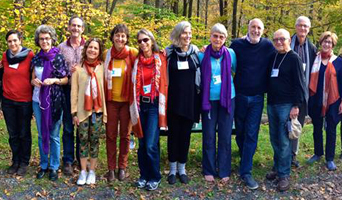 Kivvun
An 18-month program for community leaders focusing on cultivating mindfulness, prayer, middot (inner dispositions like equanimity, gratitude, patience, etc.), and learning as spiritual practices. The program includes four retreats, monthly spiritual guidance with Institute faculty, and interim havruta learning. Kivvun is the only Institute program that fully pays for itself.
Kivvun is an intensive, retreat-based learning program for Jews seeking to engage in life guided by Jewish spiritual tradition. This program helps participants discern for themselves—supported by Jewish text, tradition and practice—how to direct their lives in alignment with a deep sense of wisdom.
Kivvun provides an opportunity unique in the field of adult Jewish education: deep and continuous study over eighteen months, integrated with spiritual practice alongside a dedicated group of teachers and fellow students. It offers training and support in a number of practice modalities (Jewish text study, prayer, tikkun middot, meditation, yoga, spiritual direction, and retreat), based on the understanding that different people will resonate with different practices.
Kivvun helps participants integrate such practices and apply them to their everyday lives of work, relationships, social action and leadership. These practices help people develop their inner resources for cultivating the capacity for greater joy, courage and gratitude, as well as dealing with loss, grief, stress and fear.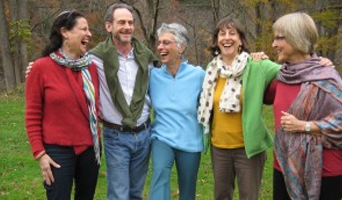 Hevraya
Alumni Program for Clergy and Educators
We continue this important work with our Hevraya Program for Professional Alumni. Hevraya is a community of practice comprised of the rabbis, cantors and educators who have completed their training through the Institute. Hevraya members seek the structure and mutual support to sustain and deepen their personal spiritual practice, and to explore together how they might share their learning with the communities in which they live and work.
Hevraya members may customize a program to maintain and deepen their spiritual development, engaging in retreats, text study, mindful Jewish leadership reflection groups, distance learning and sharing of best practice, and spiritual direction. They may also pursue additional leadership training through the Institute to develop advanced teaching skills in mindfulness meditation and yoga.
Contact us for more information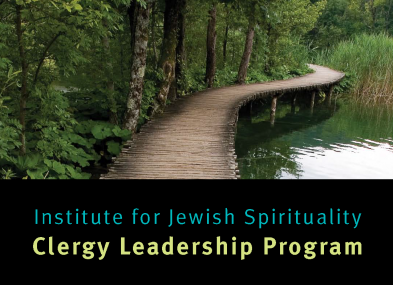 Clergy Leadership Program
The Clergy Leadership Program of the Institute for Jewish Spirituality invites cantors and rabbis to join the more than 400 Jewish professionals who have studied with the Institute to develop their spiritual practice and mindful leadership. The first CLP cohort (started in January 2014) successfully brought 40 rabbis and cantors together in an immersive, practice-based approach to deepen their own spiritual lives and the spiritual life of the Jewish community. Practice-based spirituality returns the full vitality of body, heart, mind and soul to the highly intellectualized, privatized and fragmented Judaism of today. As we continue to offer this unique learning experience, participants will refine the teaching and guidance they provide for Jews seeking spiritual growth and insight. Grounded in their own contemplative practice, they will serve more mindfully as leaders and participate more skillfully in revitalizing Jewish living.
The shared participation of cantors and rabbis in this program is itself recognition of the significance of interdependence and interconnection in spiritual life. Each of these Jewish professionals holds a key essential to unlocking the heart. Rabbis are teachers who relish sharing the words of our tradition through the study of texts and verbal communication. Cantors are teachers who delight in the power of music and song to awaken spiritual awareness. These two approaches can be identified with the classical mystical dimensions of Kol (the pure flow of sound arising from the heart) and Dibbur (the discrete, articulated expression of the mouth). Each is important, yet neither is sufficient in itself. Our hope is that in studying and practicing the expression of both voice and word, we will all deepen our capacity for compassion, understanding and creative cooperation.
Contact us for more information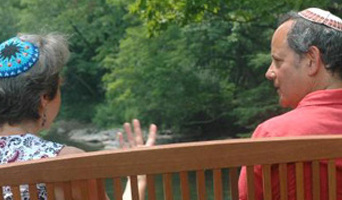 Taste of Kivvun
These Wednesday – Sunday retreats are open to everyone and modeled after our Kivvun retreats, so many individuals consider the retreat as an opportunity to sample the Kivvun program.
The program is built around our core practices of mindfulness meditation, song-filled prayer, exploration of traditional texts, lively discussion and optional yoga. Attention is also given to the direct experience of silence and the beauty of nature. Participants taste the joy and community warmth of a full, shared Shabbat celebration. Many participants create meaningful and lasting friendships with others in attendance.
Each retreat explores a theme relevant to the cultivation of Jewish spiritual life, such as gratitude, wonder, or the connection between the inner life of contemplation and the outer life of action. Institute staff is joined by well-known guest scholars to teach on the chosen theme. There is also opportunity for one-on-one meetings for spiritual guidance with Institute faculty.
Contact us for more information