Posts Categorized:

Email Newsletter Full Article
Posted & filed under Email Newsletter Full Article, Executive Director's Blog | 2 Comments on Counting the Intelligence of Each Thing.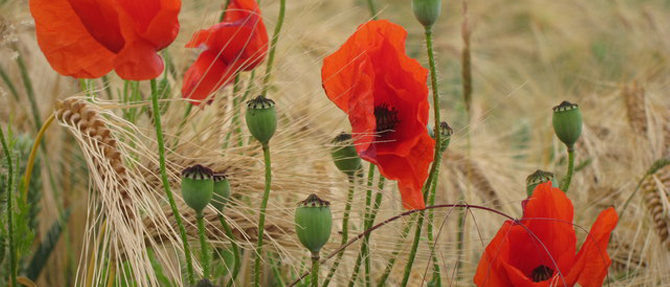 When I was a little girl, my mother taught my brothers and me to make chains of colored construction paper, one loop for each day before a longed-for event. Each evening before going to bed, we would ceremonially tear one loop off the chain and know how many days were left. In the spring we counted down to summer vacation; in the fall I counted down to my birthday.
As a people, we are similarly counting down at this time of year. During sefirat ha'omer (the counting of the Omer), each evening for the 49 days following Passover, we ceremonially mark off one more day as we proceed towards the longed-for holiday of Shavuot, the celebration of receiving Torah at Mt Sinai.
When I was a child, the purpose of the counting was to hurry along time as much as possible. It was an answer to the impatient question, "How many days NOW?" But spiritual practice helps us see this process in a very different light. Rabbi Nachman of Breslov taught that we must continually strive to see hasechel sheyesh bechol davar, the intelligence, or even signs of Divinity, that can be found in every single thing. His devoted disciple, Natan Sternharz, also known as Reb Noson, connected this teaching to counting the Omer.
Reb Noson noted that signs of Divinity can be found not just in every item, but in time as well—every day, hour and minute in its own unique way. To an ordinary person dealing with transactions and traffic and responsibilities, it's a tall order to achieve the constancy of awareness that would permit us to see those unique signs of Divinity every day, let alone every minute! So we have this time of counting to help us practice being more finely attuned to the unique holiness of each particular day. For those of you interested in Mussar, it is very similar to the Mussar world's offering of kabbalot, small tasks or opportunities to practice a particular middah or characteristic. The counting of the Omer is a bounded, but intensive training period for awareness.
So the counting is not to hurry along time. The counting is there to slow us down, to notice. Today is the 28th day of the Omer. What is unique about it? Where will the holiness be? Where might I find signs of Divinity if I only knew?
Wishing everyone a counting filled with wonder and blessings and joy!
Posted & filed under Email Newsletter Full Article | No Comments on Reflections on the Omer and Life.
By Rabbi Joshua Levine Grater
My kids are getting older, and with their aging, they are starting to ask questions about time, length of life and death. They understand the concept of being born, as they have cousins who have been born recently, and they understand that life ends, both from their obsession with Harry Potter, which has main characters dying, and from the fact that their dad is often out at night at a shiva minyan. We have had some amazing discussions over this Pesach time, as they now like to sit and "talk like grown-ups," as they put it—about time, life, memory, and understanding the differences between 100 years ago, like when their great-grandfather was born, 1000 years ago, and 3000 years ago, like when Moses lived. They are still only 9 years old, so of course I reassure them that they have a long and beautiful life ahead of them. And I try not to burden them with my own neuroses about time, my own struggles with understanding and living within the construct that yesterday will never happen again, that each day forward is a day closer to an end that is always fast approaching, but—please God—is hopefully far off in the future.
It is so wonderful to be a child, innocent and free of these mental burdens that can both invigorate and infuriate adults, as we all deal in our own ways with the concept of time and the counting of our days. I remember lying in bed, as my kids say they now do, wondering what it is like to die, how it will be that the world will go on and on, for billions of years, without me? This can either paralyze us into a life of fear, or it can inspire us to a life of meaning. Most of us live somewhere in between. As Dr. Sherwin Nuland writes so beautifully in his landmark book, How We Die, "Against the relentless forces and cycles of nature there can be no lasting victory." But, with faith, hope, values and meaning, we can achieve a life that will live on beyond us.
We mark occasions of time, both celebratory and painful ones, which serve as guideposts in the sea of a lifetime. 128th birthday of Pasadena, 69th anniversary of the liberation of Auschwitz, bar/bat mitzvah, 13 year anniversary of 9/11 approaching, 66 years of the State of Israel—all important milestones in the life of individuals and nations. Yet, how many of us ever pay attention to the passing of each day, I mean really count and mark each day of our lives as important, meaningful, reason for celebration? As we are in the period known as sefirat ha'omer, the counting of the Omer, which counts the days from Pesach to Shavuot, I am thinking about counting our days, and focusing on the meaning of a day in our lives, which is the most concrete block of time that we all share in common.
Biblically, the counting involved the time from the second day of Pesach until Shavuot, 49 days, culminating in the barley harvest and the offerings of the first grains at the Temple. Not being a farmer myself, I don't know that much about barley, but I do know that it is a very sensitive grain, one that needs to be harvested at a precise moment; if that moment passes, the barley dies and the crop is lost. Hence, the counting of each day with great care and attention. Today, however, we are not harvesting any wheat or barley, and we don't have the Temple, so why count? Where do we find meaning in this ritual? I want to suggest a few options.
Our lives are like the barley, sensitive and in need of great attention. Inside the tough, outer shell of the human body, our souls and spirits require love and devotion, a constant dedication of commitment to maintain a healthy life. We tend to focus on the body, exercising and eating right, getting enough sleep, taking vitamins and seeing the doctor. Yet, how many of us pay the same amount of attention, give the same amount of time and energy to our souls? Sefirat ha'omer offers us the chance to spend 49 days in direct contact with our souls on a daily basis, for each day that we count, we focus on a different aspect of our inner being.
Coming out of Mitzrayim (Egypt), we left the place of limitations and boundaries, a place that represents all forms of conformity and definition that restrain, inhibit or hamper our free movement and expression. Therefore, leaving Egypt is about embracing freedom from constraints. (Rabbi Simon Jacobson) The Omer invites us to count each day as a single unit of time, a unique period in our life that happens only once. What did today mean for you? Were you compassionate, disciplined, productive? Did you study, spend time doing something solely for yourself? Did you love someone today? Did you love yourself?
Each day has infinite value, infinite worth, infinite potential. We often overlook that idea in favor of greater periods of time: how was my week, my month, my year? Yet, hayom (today) is the most precious gift, for as the old adage goes, "today is a gift, which is why it's called the present." When we count each day, we don't wait for greatness to come tomorrow or next week; when we count each day, we might find out how wonderful or painful, how rich or poor, how glorious or frustrating our lives truly are. If it is the positive, we can celebrate that. If it is the negative, we can recognize it and, hopefully, do something about it before it snowballs into something more major, more harmful.
This period of counting the Omer, these next several weeks, I invite you to tap into the power of life-affirmation through acknowledging time passing; mark the end of each day, before you go to sleep, by reviewing your day, seeing where you succeeded, achieved, produced, laughed, shared, gave, received. And, see where you could have done better, been nicer, kinder, who you may have hurt and who hurt you; ask for forgiveness and offer forgiveness. And then, with the spirit of our people, count the day.
As I have taught my kids, life is precious, each moment matters, the less we take for granted the better. As Shakespeare has Julius Caesar remind us, "Of all the wonders that I yet have heard, it seems most strange to me that men should fear; seeing that death, a necessary end, will come when it will come." May we all live long, healthy and rich lives, and when that day arrives, when life in this world transitions to the next, may we have counted each of those days of life with as much fullness and fortitude as humanly possible.
Posted & filed under Email Newsletter Full Article, Meditation | 1 Comment on Hametz Meditation.
By Rabbi Toba Spitzer
Passover is ultimately about freedom and new beginnings.  The exodus from Egypt is a birth story – the birth of the Israelite people, and of a new kind of society, covenanted in love and justice.  Passover is also a spring holiday, celebrating the first harvest and the new birth of the flocks.  So part of the practice of clearing out hametz is linked to this sense of beginning, of new possibilities – clearing out the old, to make room for the new.
In many Hasidic interpretations, hametz is understood as internal obstacles and negativity, and we take this week of Passover to clear out as much of this as we can.  So another possible focus is some kind of intentional "clearing out" of those internal tendencies – selfishness; greed; excessive pride; negativity towards self or others – that are getting in the way of our own liberation.
Rabbi Shefa Gold teaches:
"I've been experiencing "Matzah" as the essence that we must return to, must re-discover in order to grow in purity and awareness toward our liberation. The "hametz" is the sourness, often unconscious, the residue from suffering, disappointment. When hametz is left to its own, it causes inflation which is the process whereby layers of false-self build up to protect the essential core. The trouble is that through this process we also lose access to that essence. Before Pesach the challenge it seems to me is to release those layers of false self and then to discern the sourness that gave rise to that layering, then to re-experience the essence which is the unique spark at your core…"
For our sit, we'll do an internal "bedikat hametz," checking for internal hametz.  When this is done traditionally, it's playful – done with a candle and a feather.  A gentle process, knowing full well that we're going to find something – and appreciating it when we do find it, just like it's fun to find the hametz that's been stashed around the house for the evening inspection.
BEGIN SIT – settle in to seat, into physical sensation, breath.
Begin to notice the small the bits of "hametz" in our experience – that which keeps us from being present in this moment. It might be desire – wanting something to be happening outside of this actual moment of experience.
Or it might be aversion – pushing away some part of our experience that is unpleasant, that we wish wasn't happening.
There might be judgment that arises – judgment of self, judgment of others.
There might be distraction – the mind seeking something more interesting than paying attention to what is.
Whatever arises, whatever obstacle you find to just being present – imagine you have a feather, and you gently, playfully, whisk it away.  And then come back to the present moment of experience.
A desire arises – whisk!
Aversion arises – whisk!
Judgment arises – whisk!
And we do this with compassion, with an openness of heart. With each flick of the feather, a space opens up; there is a small movement towards freedom.
SIT
CLOSING:  Noting the types of hametz that tend to arise, and setting a kavvanah, an intention, for this Pesach, to let go and release it. Not forcing, just setting an intention.  The prohibition during Pesach is on owning any hametz – so let go of ownership. Understand that these inner obstacles are not you, do not belong to you, and you don't belong to them.
Posted & filed under Email Newsletter Full Article | 2 Comments on Running Commentary.
By Lisa Zbar
Up until recently, my runs haven't been mindful, although they have been full of my mind.
They've taken one of two forms. Either I have been filled with innumerable, maybe even hundreds, of thoughts and feelings, in a full-body experience, without any observation or even curiosity—one might call it a running commentary. Or, I've gone into a vortex of near obsession about a situation or person.
Pleasant, don't you think?
Here's a glimpse of the stream of thoughts and observations from the first form:
I feel like lead
I want to turn around
I feel so loose!
That driver is a jerk
The sun on my face is a blessing
I'm underdressed
Now I'm overdressed
I wish I could run like she does
Bike riders scare me
I feel alive
The other form has asserted itself when I've felt wronged or seriously misunderstood. In these situations I'm like a child's top. The thoughts are the string, controlling how I spin, whether I have control, and how fast I turn.
A recent, dramatic event led to a clear view of these two workings of mind.
I was hit by a Suburban last summer and couldn't run as various body parts needed to heal. I didn't plan it this way, but I started to focus on my meditation practice. I'm grateful to be able to report that it has deepened and expanded, something I do every morning for 20 minutes, preceded by a few minutes of reading. I read Buddhist sources, commentaries on the psalms, basic texts on mindfulness and meditation practice, and Jewish texts in spirituality. (I struggle to avoid "skimming" the New York Times.)
Just in the past month or two I've started to run again and my relationship to my mind is different. I am more mindful, it seems.
A couple of weeks ago I was in the park and got to thinking about a person whose words and behavior had hurt my feelings. I was really going at it, developing a miserable, laser-like focus on this situation.
After a half mile of this, I asked myself, "What is going on here?" Just that moment of stepping back showed me that I was sad, and scared that the situation wouldn't change. I entered the fear and sadness, started to cry, and found some compassion for both of us.
As for the version of mind that is a running commentary, I now feel less that I am that litany of I hate this-I'm too hot-I'm too cold. I have distance, even a little humor, and can say to myself, "Look at all these reactions." Mindfulness practice provides space between my thoughts and me, so that I am not what I think, even the glorious thoughts and sensations, that I wish would go on and on.
Posted & filed under Email Newsletter Full Article | 2 Comments on Musings of an Amateur Gardener.
By Rabbi Nathan Martin
Over the last few years I have turned my attention to growing summer vegetables. This project often starts in April with my attempts to cultivate early sprouts in the seed trays in our dining room (with dirt spills and all), and continues until the cool November frosts lay to bed the last of my tomato plants.
I take great pleasure in announcing, with fanfare, the elements of the summer's dinner provided that day from one of my three garden plots. It is a great feeling to be feeding those I love with food that I have grown, harvested, and prepared. The process allows me to better understand the phrase from Psalm 90, "establish for us the work of our hands"
But there is an additional dimension of gardening that is deeply connected to my mindfulness practice. In my weekly sit on the cushion (I'm still working towards a daily practice) it doesn't take long after settling in for me to become aware of the symphony of activity in my mind. I see myself working out numerous variations of conversations I plan to have later that day. I hear threads of music replaying themselves in a loop. And each time, I try as lovingly as I can to direct my attention back to the simple in and out of my breath. But gardening is different.
Sometimes, when my hands are working their way through the dirt, the stories and the music stop. I can spend long chunks of time simply digging, sifting, clearing with my mind relaxed and focused. It's those moments when I realize that gardening can simply be another form of practice "off the mat." It can be a chance for me to notice my breath, the warmth of the sun on my back, the feel of the dirt, the color and texture of the weeds, and ultimately the presence of that moment. After a particularly joyful weeding session I'll even remember to thank the plants (out loud) for their generosity.
And then, like all forms of practice, this too passes, and I go back to worrying about whether the pepper plant will get enough sun, when I should be clearing out a patch of dirt for the next planting, and what I should be doing right now outside the garden.
But gardening has given me a glimpse of what it could be like to be present to each moment. Knowing that I've been able to experience a pure focus with the weeding, even for a few minutes, gives me hope that with continued practice I'll be able to extend that kind of attention elsewhere to my relationships, reaching for more and more time in the present. In the meantime, I'm looking forward to this coming season's engagement with dirt, pleasure, and hopefully quiet mind.