Executive Director's Blog – Notes from Lisa's Desk
Elul is coming to an end with the grandeur and mystery of the High Holy Days about to begin.  In New York the weather shifted this week too; the sun is still warm, but the wind is fresh and even chilly, signs of colder days approaching.
Last week I mentioned the new building that is being constructed outside our windows.  I have been watching the workers, climbing, moving and hammering, seemingly without a care, on the drop-off edge of a concrete slab 20 stories above the street.  As I write, one man in a neon green vest is clinging to the outside of a plywood ladder, nothing underneath him but a net two floors below, whacking at something with a tool.  He is clipped on with a harness, but from here, it looks pretty terrifying.
Fear.  I remember studying once with Gabe Goldman, a naturalist and Jewish educator.  He told of having led a hands-on workshop about how to handle very, very sharp knives, so sharp that you wouldn't even feel it if you cut off your finger.  He taught his students how to hold them, work with them, and respect them.  He then followed the workshop with a lesson about yirah, "fearing" or being "in awe" of God.
After the sweet, mellow days of Elul, these High Holy Days, Days of Awe, give us a glimpse of something stronger and a little more fearful.  They encourage us to consider the mystery of the unknown days ahead, days that may hold great blessings and great suffering, and probably a little of both.  They give us the forum to come face to face with our limits and the reality of our mortality.  They challenge us to confront our own vulnerability in the face of the colder days that are coming.
But, like the men outside who are building a new building, a structure that will provide shelter for hundreds of people and stand witness to their labors for many years, the High Holy Days also give us the opportunity to take satisfaction in the work of our hands and to find joy in living this life, in company with fellow travelers, step by dangerous step, even when we feel we are dangling over the abyss.
May 5773 bring all of us more blessings than suffering, more expansiveness than constriction, more peace than conflict, and more joy than sorrow.   May our practices give us tools for wisdom, gratitude and compassion.  And may we find good companions (or a good Companion) for the journey who can support us with courage, love and guidance.

No, that's not a typo.  Just before Labor Day, the staff at the Institute's national offices packed up all our books and files and equipment and on Tuesday, under the expert guidance of David Cavill, our Associate Director, and Vito Marzano, our Executive Assistant, we moved into our new space. The rumors are apparently true:  everything is indeed impermanent.
Our new office is a big, open space with high ceilings, wood floors and a row of huge windows facing north.  From my desk, I can turn my head to look across the relatively low police station over to 31th St where construction on a brand new building is underway.  It is 21 stories so far and they have labeled each floor on the outward facing concrete with huge fluorescent orange numbers.  I can also see the decorative design of sphinxes and winged horses on the building directly across the street.
I am excited to set up our new space, to think about how the external can reflect the internal.  What does an office that is committed to supporting the cultivation of spiritual practice look like?  It's pretty simple at this point.  We have some plants and a big blue balancing ball; we have a refrigerator, a tea and coffee corner, a common table and enough floor space for meditation or yoga.  We have some bookshelves.  We have windows that open and show us both the sky and the people hard at work in the city around us.  And we have extraordinary people, most of whom are mostly anonymous to you who participate in our programs, whose personal practice and commitment to this common work of integrity and expanded awareness are inspiring to me every day.
If you are in the neighborhood, come by and say hello!  Our new address is 135 W 29th St, Ste 1103, New York, NY 10001.

Earlier in the summer, I went to Roosevelt Island. There is a red tram that takes you from the east side of Manhattan, up, over the Queensboro Bridge and the East River and then down to the island. It's great fun.
I was early to meet my friend and so I waited at the tram depot on the Manhattan side for a while. The little plaza by the station was one of those strange places that for some reason attracts pigeons by the hundreds. My eye was caught by a sign that the New York City Department of Parks and Recreation posted on a fence: "Feed a Pigeon. Breed a Rat." (And just for the record, I did indeed spy a rat, roughly the size of a pigeon, scurrying beneath the rose bushes.)
The sign reminded me of a classic teaching story that I first heard from Sheila Weinberg. A Native American elder is teaching a group of children, sitting at his feet. He says, "There are two wolves. One is filled with rage and hatred and blame and fear. The other is filled with compassion and forgiveness and peacefulness and faith. These two wolves are fighting. And they are inside me."
One of the children asks anxiously, "Which wolf will win?"
The elder solemnly replies, "Whichever one I feed."
In my experience, my more negative thought patterns are very similar to feeding rats and pigeons. I have no desire to feed the rats. But pigeons are innocuous. I find them
dirty and slightly menacing in a weird way, but they're certainly not on the same level as rats. In the same way, I don't intend to hold on to things that make me angry, hateful, fearful or judgmental. But I certainly can find myself nursing small grudges or injustices that seem innocuous.
But in fact, they are not. The New York City Department of Parks and Recreation is exactly right. Feed a pigeon, breed a rat. Cling to that grievance and it inadvertently may shape my thoughts towards something much darker and unwanted.
Of course, there is a place in the world for all kinds of animals, even those we call pests, and anger, fear and hatred are unavoidable – and occasionally even useful – human experiences. It's a question of appropriateness and discernment. Perhaps the first place we can stop "feeding the pigeons" is with ourselves – by bringing compassion, forgiveness and faith to our mind's endless capacity for holding on when we might let go.

Summer is winding down.  Elul begins on Saturday night.  The beginning of Elul reminds me of a story I heard from Rabbi Sholom Rivkin (of blessed memory), a kind and learned man who was the Chief Rabbi of St. Louis for many years.
Rabbi Rivkin told that in the old days, if you wanted to go talk to the king, you had to think about who could help you get invited to the palace.  You had to wear your best clothes and learn the court etiquette – how to enter the throne room, when to bow, what to say, where to look.  It was all very complicated and very serious.  But sometimes, the king just went for a walk in the fields.  And at those times, anyone could just start walking along next to the king and share whatever was on their heart.
Elul is the season when the King goes walking in the fields.
I love this story – the imagery, the intimacy, the hope it conveys for coming close to the Divine.  I feel my heart leap up:  Yes!  I too want to go for a walk with the King!  (or the Queen – pick your metaphor of royalty.)  I want that immediate access, the instant connection.  So often I focus on learning the court ritual, or, as we say, "preparing the vessel" – committing to the form of the ritual, dragging my attention back over and over.  I know that the practice is a tool that can create the possibility for those moments of awareness.  Yet I yearn for those moments of grace.
I also love this story because the High Holy Days themselves are like the throne room, not like the open fields.  They are arguably the most formal, complicated and serious days of our whole year.  We (especially we clergy) could get seduced into thinking that the preparation for these Days of Awe is mostly involved with liturgy and choreography.  But this is precisely when God invites greater accessibility of a very different kind.
And so part of my preparation for the Holy Days includes imagining:
What would it be like if I could join God for that walk in the fields?
How would I say hello?
What would I share about my life?
What would I ask for?
What questions would I be asked?
How would I answer?
How would I take my leave?
Wishing you an inspiring, heart-opening beginning to these most holy of days!

Last week was a big week for me. I left my sublet and moved into my very own New York apartment!  Even though my new home is not that far from the apartment I was renting, I have to find a new grocery store, a new dry cleaner, a new pharmacy. I also have to figure out how to get to work. I used to live on an express stop on the subway, whereas now I am on the local train. Do I walk down to the express stop? Do I take the local and change trains? Do I ride the local all the way? And most important of all: How long does each of these options take?
As I puzzled over the train schedules, I came across this video from the New York Times: The Subway Shuffle
I had to laugh. Ruefully. There is something undeniably funny about the New Yorkers rushing from platform to platform, trying to shave off a few seconds here and there. (And to be honest, when I lived in California, I used to shift from lane to lane, trying to advance a few yards on the freeway.)
But the truth is that there is a cost to rushing all the time.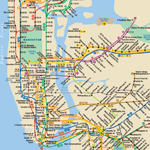 The cost is both inner and outer. The inner cost is that when we hurry, we often fail to notice the truth of experience. Rabbi Kalonymus Kalman Shapira described in his book Conscious Community how important it is to learn how to observe our own inner life because it opens us to being able to sense even more. He said, "Perhaps in your looking you will uncover God's subtle presence; you may sense God's holiness." How do we do that? His answer: "You must clearly, consistently and diligently slow down." (And he wrote that over 70 years ago!)
And the outer cost is that when we hurry, we often fail to notice the truth of other people's experiences. The famous "Good Samaritan experiment" at Princeton showed that the most important factor in determining whether a seminary student would stop to help someone in need was not how much they thought about helping others or the nature of their religious commitment. Instead the main factor was how late the students thought they were. In fact, only 10% of those who were hurrying paused to help a man slumped on the street, as compared to 63% of those who were not in a hurry.
It is so easy to forget and get swept away by the busyness of our culture. It is so important to keep remembering to take our time.