Executive Director's Blog – Notes from Lisa's Desk

Earlier in the summer, I went to Roosevelt Island. There is a red tram that takes you from the east side of Manhattan, up, over the Queensboro Bridge and the East River and then down to the island. It's great fun.
I was early to meet my friend and so I waited at the tram depot on the Manhattan side for a while. The little plaza by the station was one of those strange places that for some reason attracts pigeons by the hundreds. My eye was caught by a sign that the New York City Department of Parks and Recreation posted on a fence: "Feed a Pigeon. Breed a Rat." (And just for the record, I did indeed spy a rat, roughly the size of a pigeon, scurrying beneath the rose bushes.)
The sign reminded me of a classic teaching story that I first heard from Sheila Weinberg. A Native American elder is teaching a group of children, sitting at his feet. He says, "There are two wolves. One is filled with rage and hatred and blame and fear. The other is filled with compassion and forgiveness and peacefulness and faith. These two wolves are fighting. And they are inside me."
One of the children asks anxiously, "Which wolf will win?"
The elder solemnly replies, "Whichever one I feed."
In my experience, my more negative thought patterns are very similar to feeding rats and pigeons. I have no desire to feed the rats. But pigeons are innocuous. I find them
dirty and slightly menacing in a weird way, but they're certainly not on the same level as rats. In the same way, I don't intend to hold on to things that make me angry, hateful, fearful or judgmental. But I certainly can find myself nursing small grudges or injustices that seem innocuous.
But in fact, they are not. The New York City Department of Parks and Recreation is exactly right. Feed a pigeon, breed a rat. Cling to that grievance and it inadvertently may shape my thoughts towards something much darker and unwanted.
Of course, there is a place in the world for all kinds of animals, even those we call pests, and anger, fear and hatred are unavoidable – and occasionally even useful – human experiences. It's a question of appropriateness and discernment. Perhaps the first place we can stop "feeding the pigeons" is with ourselves – by bringing compassion, forgiveness and faith to our mind's endless capacity for holding on when we might let go.

Summer is winding down.  Elul begins on Saturday night.  The beginning of Elul reminds me of a story I heard from Rabbi Sholom Rivkin (of blessed memory), a kind and learned man who was the Chief Rabbi of St. Louis for many years.
Rabbi Rivkin told that in the old days, if you wanted to go talk to the king, you had to think about who could help you get invited to the palace.  You had to wear your best clothes and learn the court etiquette – how to enter the throne room, when to bow, what to say, where to look.  It was all very complicated and very serious.  But sometimes, the king just went for a walk in the fields.  And at those times, anyone could just start walking along next to the king and share whatever was on their heart.
Elul is the season when the King goes walking in the fields.
I love this story – the imagery, the intimacy, the hope it conveys for coming close to the Divine.  I feel my heart leap up:  Yes!  I too want to go for a walk with the King!  (or the Queen – pick your metaphor of royalty.)  I want that immediate access, the instant connection.  So often I focus on learning the court ritual, or, as we say, "preparing the vessel" – committing to the form of the ritual, dragging my attention back over and over.  I know that the practice is a tool that can create the possibility for those moments of awareness.  Yet I yearn for those moments of grace.
I also love this story because the High Holy Days themselves are like the throne room, not like the open fields.  They are arguably the most formal, complicated and serious days of our whole year.  We (especially we clergy) could get seduced into thinking that the preparation for these Days of Awe is mostly involved with liturgy and choreography.  But this is precisely when God invites greater accessibility of a very different kind.
And so part of my preparation for the Holy Days includes imagining:
What would it be like if I could join God for that walk in the fields?
How would I say hello?
What would I share about my life?
What would I ask for?
What questions would I be asked?
How would I answer?
How would I take my leave?
Wishing you an inspiring, heart-opening beginning to these most holy of days!

Last week was a big week for me. I left my sublet and moved into my very own New York apartment!  Even though my new home is not that far from the apartment I was renting, I have to find a new grocery store, a new dry cleaner, a new pharmacy. I also have to figure out how to get to work. I used to live on an express stop on the subway, whereas now I am on the local train. Do I walk down to the express stop? Do I take the local and change trains? Do I ride the local all the way? And most important of all: How long does each of these options take?
As I puzzled over the train schedules, I came across this video from the New York Times: The Subway Shuffle
I had to laugh. Ruefully. There is something undeniably funny about the New Yorkers rushing from platform to platform, trying to shave off a few seconds here and there. (And to be honest, when I lived in California, I used to shift from lane to lane, trying to advance a few yards on the freeway.)
But the truth is that there is a cost to rushing all the time.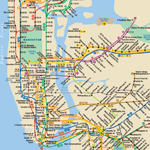 The cost is both inner and outer. The inner cost is that when we hurry, we often fail to notice the truth of experience. Rabbi Kalonymus Kalman Shapira described in his book Conscious Community how important it is to learn how to observe our own inner life because it opens us to being able to sense even more. He said, "Perhaps in your looking you will uncover God's subtle presence; you may sense God's holiness." How do we do that? His answer: "You must clearly, consistently and diligently slow down." (And he wrote that over 70 years ago!)
And the outer cost is that when we hurry, we often fail to notice the truth of other people's experiences. The famous "Good Samaritan experiment" at Princeton showed that the most important factor in determining whether a seminary student would stop to help someone in need was not how much they thought about helping others or the nature of their religious commitment. Instead the main factor was how late the students thought they were. In fact, only 10% of those who were hurrying paused to help a man slumped on the street, as compared to 63% of those who were not in a hurry.
It is so easy to forget and get swept away by the busyness of our culture. It is so important to keep remembering to take our time.

The July retreat season flew quickly by.  For me, the hidden jewel of the season was the silent contemplative Shabbat.  It combined two things that I treasure as part of my spiritual life:  Shabbat and silence.
Shabbat and silence can be surprisingly similar.  To the uninitiated, Shabbat can seem like a bunch of rules, mostly involving things you can't do.  But those who regularly observe Shabbat know that the structure of the tradition allows for something magical to happen.  By temporarily turning away from the demands of work, entertainment and acquisition, we can make space for experiences of true meaning.
Silence works in a similar way.  By temporarily not engaging in social conversation, I make space to find deeper meaning in my own life.  My habitual thoughts can rest a little.  I give myself time to notice how I am really doing, not just how I want to be doing.  What is going on in my heart underneath all the distractions of life?  What wisdom can emerge from that knowledge?  How does the Divine move through it all?
Some of that I can also do in conversation with someone I trust.  But in silence, I don't have to explain or justify anything to anyone.  No one will demand an answer or offer a solution.  If I am feeling sad, I can feel sad.  If I am feeling alive and grateful, that's fine.  I don't have to define it or describe it or analyze it.  I can just feel it and be it – until it shifts and becomes something else.  There is a comfort and a safety in the silence.  I can lean into it, knowing it will support me and lead me where I need to go.
It may seem counterintuitive that being quiet with a group of other people who are also in silence is much more powerful than silence alone.  And yet, that is true.  (At least, that is true for me.)  I often feel a strange intimacy and affection for fellow meditators, even when I don't know any biographical information about them.  The silence allows me to remember the fundamentals of being a human being:  the longing for love and meaning, the pain of suffering, the inevitable passing of time.  The realization that I share those things with every other person becomes a lived experience in silence, not just a beautiful thing to think about.
A silent Shabbat – most coveted of days!

Our July retreat season is underway and what a pleasure it is to gather together in person with our far-flung community at the Trinity Conference Center in beautiful West Cornwall, Connecticut!  Our first retreat, which was an open retreat, focused on cultivating gratitude, and our second retreat, which is happening now, is for our seventh cohort of rabbis.  Here are a few highlights of the retreat on gratitude:
An early morning walk by the Housatonic River with banks of orange lilies, sightings of herons and a beaver waddling between the rocks at the river edge.
Observing how the process of asking questions about the Torah portion – and not answering them – transformed a strange fairy tale with a talking donkey and things happening in threes into profound insights about experiencing Divine guidance and skillful responses to obstacles and ambivalence.
Watching a whole roomful of people from a wide range of Jewish backgrounds open their hearts in song.
Exploring real obstacles to gratitude, such as being uncomfortable with receiving from others or confronting challenging situations, and how we and Jews in ages past have tried to overcome these obstacles.
Savoring trout that was caught that same morning, along with cold mint pea soup, fresh local tomatoes with pesto, salad with raspberries and walnuts, seitan with a ginger sauce, roasted carrots and "white chocolate blackberry dream" (which is exactly what it sounds like).
Welcoming our beloved Shabbat with radiance and joy.
Learning that the Hebrew work for "thanking" (lehodot) can also mean "acknowledging" and practicing saying "thank you" or "Yes, this too" to whatever arises, through prayer, yoga, meditation and traditional texts.
Using freshly picked rosemary, thyme and sage as the spices for Havdallah.
If you were at this retreat (or if you have been at other retreats at Trinity), what have been some of your highlights?