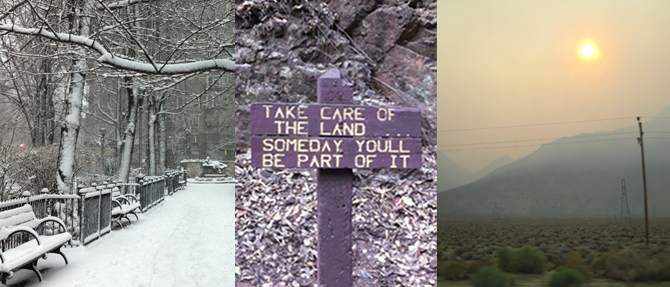 One morning in early January I left my Upper West Side apartment to go to work.  The thermometer read 4 degrees Fahrenheit.  I was all bundled up; I finally figured out how to keep my scarf over my nose and mouth without having to hold it there with a mittened hand.  But I hadn't calculated on the wind.  When I emerged from the subway in Midtown and walked head-on into the gusting wind, my eye sockets ached, it was so cold.  I had never experienced anything like that before.
So you can imagine my glee at the Institute tradition of holding our two January retreats in Southern California.  I flew out to Los Angeles and left my down coat in the trunk of the car.  I rolled up my sleeves and reveled in the sun.  And then I started looking around.  Where was the delicate winter grass in the vacant lots and on the hillsides?  Why were the sage bushes and sycamore trees looking so dusty and worn?  Why were the stream beds so very parched at what should be the height of the rainy season?
I found myself in a complex position.  On the one hand, I was so glad to be out of the snowy northeast and in the splendid sunny days of California.  I delighted in the blooming magnolias and pear trees in watered gardens and felt the gratitude rise in my ribs.  And on the other hand, my chest ached with a panicky dread at the reality of the terrible drought.   The worry began with a kind of identification with the suffering of the plants and animals around me and expanded to a much greater fear:  What is happening to this land that I love?  What is happening to our planet?
And both those perspectives are true.  The gratitude and the dread.  The delight and the fear.  I didn't have to choose one or the other.  In fact, I couldn't honestly choose between one and the other.  They coexist in a single reality.  It is just as our liturgy says:  You are the Fashioner of light and the Creator of darkness, Maker of peace, Creator of all things.  All things:  the pleasant and the unpleasant, the beautiful and the terrifying, life and death.
When we start paying attention, we can notice how easy it is to assign a judgment to a particular situation which then smoothes over the nuances into an easily digestible – but false – uniformity.  Lisa Zbar, the Institute's Development Director, sometimes speaks of the spiritual practice of "AND."  It is a practice of truth telling.  And it helps us discern the wisest action.  The gratitude and delight can nourish us and give us hope.